Supermarket curries
Lockdown is upon us and the habits of restaurant lovers are set to change in the next month or so. What to do if you like being cooked for?
Consider the supermarket meal, more specifically, the microwave curry. A curry is good for one or for a family. It freezes well. It keeps well; indeed it improves overnight. Reliably comforting, it's the ideal stay-in meal.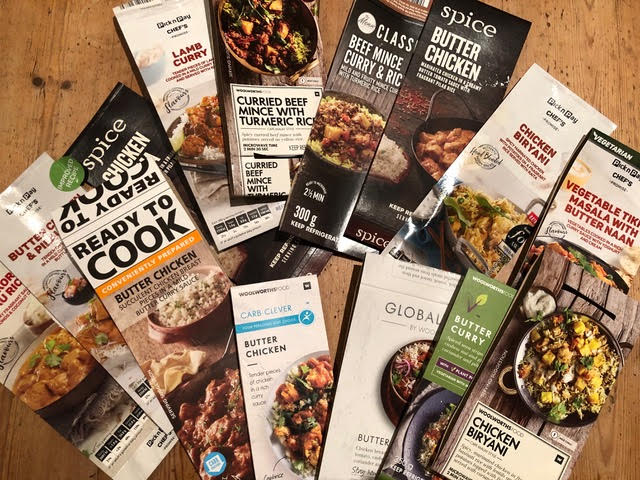 Checkers, Pick n Pay and Woolworths all offer North Indian-style and South African curries. We are nowhere close to the UK, for instance, in the variety of curries with which to fill our trolleys, but the quality of some of our supermarket curries isn't bad. They can be less disappointing than the supermarket versions of meals that rely on just-cooked freshness for impact: supermarket pizzas and pastas fall squarely into this category. A pale, limp and unforgiveably thin supermarket lasagna adds insult to the injury that our Italian brothers and sisters are currently suffering. Ditto a pizza that conceals an anonymous white sauce between its cheap flavourless mozarella and synthetic-tasting tomato base.
Appearance
How to judge a supermarket curry? It should look appealing, for a start. The Checkers Chicken Korma, grey-beige in colour, resembles unset, sandy cement with lumps in it. This curry scores low in the category of shelf appeal. By contrast, the curried beef mince with turmeric rice from Woolworths boasts deep autumnal colours: the deep yellow of the rice and the red-tinged chocolate tone of the curry is offset by the oval black dish.
Overall winner
Most important: taste. Of the 14 curries sampled for this review, Pick n Pay's lamb curry was the overall winner. Its dark, glossy sauce was thick with cumin and coriander; the plain white rice fragrant with whole cardamom pods. The lamb chunks were unfatty and deliciously tender; the potato chunks earthy and wholesome. It smelt of meat, spices and mustard seeds – with a delicate whiff of fresh coriander – and was as authentic as any homecooked recipe.
Chicken curries
Butter chicken is obviously popular with shoppers. There were six to try, several of them duds. The most vile of the lot was the Checkers Ready to Cook Butter Chicken for four. The packet contained a gloopy, pinkish sauce; a single, palm-sized clump of compressed chicken surrounded by a multitude of glutinous potato cubes, eerily identical in size. It looked like a mixture of throw-up and dog food, and tasted predominantly of flour and water. The chicken itself had a strange, processed texture and the potatoes were perhaps not potatoes at all but reconstituted cubes of mash and chemical gel. At over R100, this was a shameful triumph of packaging – and an abuse of the vulnerability of family cooks on the hunt for that rare thing: a decently-priced bag of curry for four, to serve with rice or vegetables made fresh at home.
The other butter chickens were good but not outstanding. Woolworths made the best curry – with distinct tastes of tomato, cream and herbs – while Pick n Pay did a good, sweetish but peppery curry and the best pilau rice, with whole spices. The Checkers butter chicken was almost indistinguishable in look from the Woolworths curry, but tasted bland and floury.
The Woolworth Vegetarian Butter Curry was excellent: spiced soya strips in a tasty sauce thickened with cashew nuts. It had a decent, gingery heat and although the protein was chewy, it was a pleasingly homely curry.
The Woolworth "Carb Clever" butter chicken was a mess of neon-bright, tasteless curry and overpoweringly pongy "cauli-rice". The raw baby spinach leaves were fussy to eat. One suspects they were added to the bowl to obscure the apricot-orange curry and mass of cauliflower.
As you would expect, the cost of a Woolworths curry is far higher than those at Checkers and Pick n Pay.
The Checkers Chicken Korma – the unattractively coloured one – is excellent value at R49,99. The chicken is tender. The sauce is nutty and rich, with a fragrance of sweet spices. The Pick n Pay Chicken Korma, for R20 more, is better but not much better. The colour is a more appetizing ceramic shade, the gravy is spicier and the meat is better marinated.
Biryani
The Pick n Pay biryani is a winner. It smells like a Cape cook's kitchen: spicy, meaty and sweet. The caramelized onions are an authentic addition, as are the brown lentils and spiced potatoes. The proportion of sauce-coated chicken to white and yellow rice is generous. The raita is cool, creamy and herby. It is a delight; as close to a home-cooked biryani as you're likely to come. The Woolworth biryani, for R3 more, is clearly a copy. It's oily by comparison, without the symphonies of flavours or fragrance.
Mince curries
The two mince curries were repulsive – to me. The Checkers mince curry was like warm Mrs Balls chutney with bits in it. The Woolworths mince curry smelt like school camp. It tasted like cottage pie mince flavoured with curry powder and Mrs Balls. Having said that, there was a South African-ness to both of them, particularly paired with the fat, yellow-coloured rice. It may hold nostalgic appeal for some shoppers.
Tikka Masala
The Pick n Pay Veg Tikka Masala with Naan Bread is tasty and satisfying. The microwave-heated bread is soft and moreish. The curry itself is mild but wholesome, with identifiable carrots, green beans and peas. It's terrific value at R49,99.
Final results
In summary, here is Winemag's rating of supermarket curries to keep us at home while enjoying the delights of not cooking:
Best Overall: Pick n Pay Lamb Curry (R73,99)
Best Butter Chicken: Woolworths (R77,99)
Best Chicken Korma: Pick n Pay (R69,99)
Best Chicken Breyani: Pick n Pay (R69,99)
Best Vegetarian Curry: Woolworths Butter Curry (R77,99)
Best Value: Checkers Chicken Korma (R49,99)
Best Supermarket for Curry: Pick n Pay
Wine pairing
These curries will work well with a white wine that has some residual sugar, a more full bodied Chenin Blanc an ideal match. Alternatively, a Pinotage with its abundant fruit is also a good option.
Daisy Jones has been writing reviews of Cape Town restaurants for ten years. She won The Sunday Times Cookbook of the Year for Starfish in 2014. She was shortlisted for the same prize in 2015 for Real Food, Healthy, Happy Children. Daisy has been a professional writer since 1995, when she started work at The Star newspaper as a court reporter. She is currently completing a novel.
Attention: Articles like this take time and effort to create. We need your support to make our work possible. To make a financial contribution, click here. Invoice available upon request – contact info@winemag.co.za
Like our content?
Show your support.
Subscribe