Restaurant review: Thali, Cape Town
5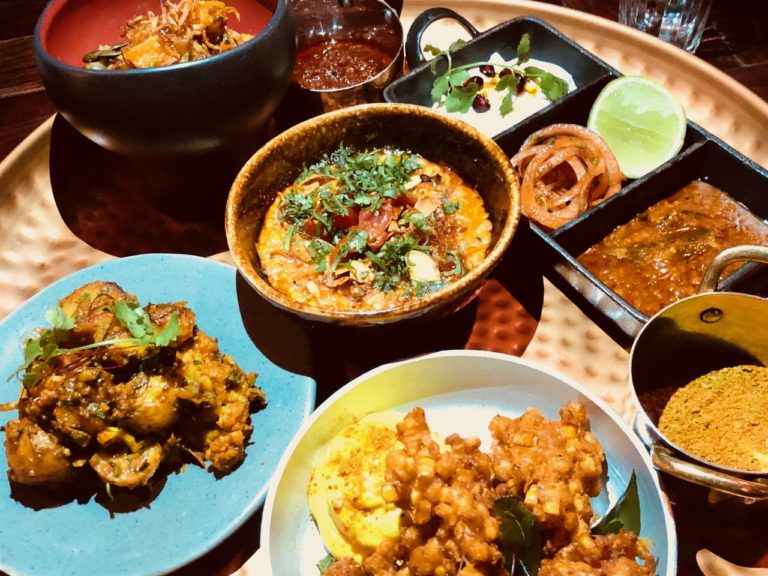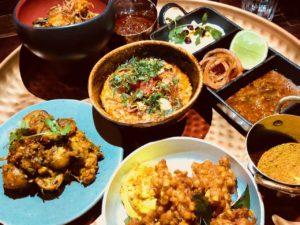 Chef Liam Tomlin – of Chefs Warehouse & Canteen fame – and Thali head chef JP van der Haar were so inspired by a trip to India last month they decided to open their restaurant's doors for lunch.
It's now possible to turn up at noon on a Friday or Saturday for Thali's famous tapas for two – the only item on the menu apart from a starter of Cape Malay oysters and a dessert menu including an Asian-flavoured version of Tomlin's famous lemon posset.
It is uncommon for a Cape Town restaurant that's already been open for two-and-a-half years to expand its operations. But Thali has been full night after night since December 2016, in spite of the fact that it doesn't take bookings and in spite of the fact that the menu is a get-what-you're-given affair.
Of course it's the food. Oh, the food. Take, for example, the sweetcorn bhaji served with a curry leaf aioli. The aioli (garlic mayonnaise) is as silky as a wedding saree. The batter is made with not one but five different flours (none of them wheat). Therein lies the secret to its airiness.
The mielie bhaji and curry mayonnaise are inspired by Indian street snacks, known as chaat. Served in a bowl, chaat generally comprise a deep-fried element, a tangy-sweet chutney or tamarind sauce, and sometimes a yoghurt topping.
In this dish, the aioli plays the part of the yoghurt, the sweet mielie kernels play the part of the tamarind and the fritter itself is also known as a pakora: any deep-fried vegetable in batter.
The cross-over with traditional tapas dishes is genius: mayonnaise and deep-fries such as arancini balls are staples on Mediterranean tapas menus.
The bhaji-aioli dish perfectly sums up what Thali achieves. It takes from the tapas trend the casual vibe, the ice-cold beverages, the small plates and trendy Moroccan tile tabletops. From a range of Indian regional cuisines, Thali takes some of the country's most exciting flavour combinations.
The sashimi-style salmon dish is another perfect expression of the theme. Here is tapas-friendly raw fish, salmon roe, raw onion, herbs, lime and garlic. And here is the addition of South Indian ingredients coconut and tamarind, along with puffed black rice and red chilli strands. The whole is so very much more than its parts. This dish is a masterclass in the balance of textures: the fish and roe are cool and popping-wet; the roasted coconut is nutty and crunchy; the rice is crisp; the dressing is smooth. More importantly, it's a masterclass in flavour balance: the salt, sour, sweet, hot and umami elements are each aggressively present, yet none dominates.
The set menu at Thali comprises eight dishes – with numerous sides – served over three courses. The first course, inspired by street food, features dishes such as the corn fritter, a glorious smoked tadka dal, and a hing-flavoured aloo gobhi (dry potato and pickled cauliflower curry). There is also a minced lamb sheek kebab per person. These are served, theatrically, on metal skewers that have been plunged into a mini copper oven that rests on the table, hot coals and all. The paratha – butter-fried flat bread – arrives steaming from the kitchen.
The sides are deliciously punchy: a hot, rich tomato chilli jam; an orange-hued, zesty onion salad; and a chunky raita (cooling yoghurt sauce) with coriander, cucumber and pomegranate.
Thali's hot chilli sauce, which remains on the table throughout the meal, is sensational. It warms the face and heats the mouth in slow waves. It's not fierce, or assaulting. It is, however, quietly powerful.
The dented copper thali tray in which the dishes are served is a thing of beauty when it arrives: an authentically Indian object loaded with colourful plates and food fit for a royal feast.
The thalis served on this tray back home in South India would look very little like this, incidentally.
Typically, a South Indian thali is vegetarian and consists of a pair of soupy curries, a dal, a fry, a pickle, a salad and a dessert, all served in small metal ramekins lining one curve of the tray. The remaining space is taken up with plain rice and a light bread.
Do not expect plain or light food at Thali. The second course fish taco – served alongside the salmon dish – is foot-stompingly delicious. People have been raving about it online for years. It's decadent: the deep-fried shell holds deep-fried kingklip with roasted peanut puree. The dressing is flavoured with coconut, coriander and lime. The tacos are secured on the plate with curry aioli.
If you are a light eater – or if you have eaten more than your fair share of the first two courses – you might be defeated by the third course. The highlights here are the smoky lamb curry – with a gravy as dark and smooth as bitter chocolate – and the butter chicken, beautifully spiced but loaded with, well, butter. The pilaf-rice style dish is buttered too, and so is the garlic naan. One also becomes conscious of saltiness at this stage. I suggest you make your defeat tomorrow's win. Have the remains of the third course packed up and take it home for a TV supper tomorrow. I saw several doggy bags on tables at the end of the evening.
An excellent alternative is to order the pescatarian Thali for Two – or the vegetarian, or the vegan. India is exceptionally good at meat-free food. The third course coconut-enhanced spring vegetable curry is delightful and the spinach and paneer dish is a showstopper.
This version of paneer palak – that smooth spinach curry sauce with chunks of white cheese in it – is dramatic to look at and dramatic to eat. At Thali, the spinach gravy is bright pea-green – not that unappetizing dark green – and it's boldly spiced and salted. The paneer is coated and deep-fried in high-quality ghee, presented on top of the dish, not inside it. Further texture and flavour is added with crispy shallot slices and chilli strands. The paneer is very light, with a crumb that marks it as homemade. Like the salmon dish, it's a creation that wouldn't be out of place in a fine dining restaurant.
The quantity and richness of the food at Thali should be a consideration for lunchtime eaters. The last two times I dined at Thali we spotted high-ups in the police and judiciary. It's difficult to imagine advocates and colonels doing an effective Friday afternoon's work after the meat tapas.
The service at Thali is superb. Serving staff are welcoming, highly knowledgeable and brisk. Our waiter hung up my coat, accommodated our time constraints and offered to alter our Thali for food allergies.
The wine list is impressive in that it offers basic pairing advice: wine options are listed under the headings Mild, Medium and Hot.
The cocktail list is Asian-inspired but features classics like Old Fashioneds, Manhattans and Margaritas. The mojito with mint, kiwi and a pipette of chilli-infused tequila is delicious but poorly presented. The glass – a medium-height tumbler – would be better suited to serving Oros.
But this is a minor detail. On the whole, Tomlin, Van der Haar and staff deserve their nominations, this year and last, for Eat Out Restaurant of the Year. My dining companion, who has lived and cooked in Delhi, declared her meal "the best Indian food I've eaten in Cape Town". Also a former Delhi resident, I added: "most interesting and on-trend too".
Liam Tomlin's cookbook, Thali, is on sale at the restaurant.
Thali: 021 286 2110; 3 Park Rd, Gardens, Cape Town
Daisy Jones has been writing reviews of Cape Town restaurants for ten years. She won The Sunday Times Cookbook of the Year for Starfish in 2014. She was shortlisted for the same prize in 2015 for Real Food, Healthy, Happy Children. Daisy has been a professional writer since 1995, when she started work at The Star newspaper as a court reporter. She is currently completing a novel.
Like our content?
Show your support.
Subscribe