SA wine history: Turning watermelons into wine at Plaisir de Merle
After hearing at the end of March that Distell had put both Alto and Plaisir de Merle on the market, I couldn't help thinking how satisfying it would be if Alto could reunite with Webersburg to form Groenerivier once again (you can read more about the original Helderberg property here).
It was not to be, of course. Less than two months later, and despite lockdown, came the announcement that Alto is in the process of being snapped up by German company LVS Capital, the major shareholder in Ernie Els Wines, also located in the Helderberg ward near Stellenbosch.
Situated 'at the foot of the Simonsberg' (or rather more prosaically on the R45 between Paarl and Franschhoek), Plaisir de Merle remains on the market, so I decided to pay it a visit back in time…
The obvious place to start was the estate's own website, which states that this land in the Groot Drakenstein valley was granted in 1693 to the Marais family, French Huguenots originally from 'Le Plessis Marly' in Longvilliers, Hurepoix, Île-de-France.
'Charles Marais was well equipped for a life as a pioneer in agriculture as the region he came from in France used to supply the Parisian markets with wine and cereals,' states the website. 'Charles was one of only a handful of Frenchmen who actually had experience in winemaking when he arrived at the Cape.'
While I'm in complete agreement that very few of the Huguenots had any knowledge of winegrowing, I'm afraid I haven't found any proof that Marais was one of them. According to research done by genealogist Pascal Herbert, his father Jean was a well-known shoemaker while his wife Catherine Tabourdeux's father Claude worked as a weaver.
And whether Marais knew how to make wine or not is irrelevant because on 3 April 1689, less than a year after his arrival at the Cape aboard the Voorschoten, not to mention more than four years before governor Simon van der Stel signed the official grant for his farm, an autopsy conducted by the surgeon Jean Prieur du Plessis revealed that he had died as a result of internal bleeding after being pelted with stones by a Khoi man named Edessoa (aka Dikkop).
It seems Edessoa, alongside two other men known as Jan and Rooman, had approached Marais at his new Drakenstein farm and asked him 'in a rude manner and with harsh words' (op een onbeleefde manier en met wrange woorden) for some of the watermelons (rather than grapes) that he was growing there. When he responded that they weren't ripe (in a manner not described but presumably not using Khoe words), Edessoa had picked one anyway and, finding it indeed to be unripe, he had then thrown it at Marais, along with a few stones.
'I found a great inward and outward contusion and the heart artery broken, which having collected much blood, overwhelmed the heart and caused death,' wrote Du Plessis in his autopsy report – the gory details of the death evidently of more interest to the Cape authorities than the circumstances leading up to it. Summarily found guilty of murder by the Council of Justice, Edessoa was handed over to his own people for punishment according to tribal practice: met stokken geslagen te werden dat er de dood navolgt (to be beaten to death with sticks).
So much for Charles Marais. The real credit for putting Plaisir de Merle on the map should probably go to his son, Claude, who was 24 when he accompanied his parents and younger siblings to the Cape. By all accounts an upstanding member of the Drakenstein community, he was a heemraad as well as a deacon and then elder of the church, and in addition to Plaisir de Merle, he was granted Wel-van-Pas in the Wamakersvallei (Wellington) in 1699.
By 1705, he was able to declare 8 000 vines and six leaguers of wine in his tax return, and by 1731, when his son Estienne's wife Maria Elizabeth de Villiers died, an inventory of her estate included the 'plaets gent: Du Plessis Marli' (belonging to her widower and his brother, Charles) with 20 leaguers of wine worth 25 Rixdollars each – much less than the price commanded by Johannes Colijn around the same time for his famed Constantia wine but enough to show that the Marais family had transcended their humble Huguenot roots and firmly established themselves as wine farmers.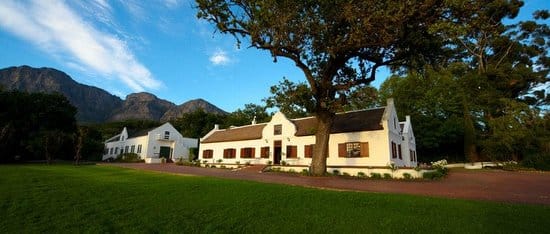 It was Estienne's son Jacob who built the Plaisir de Merle manor house in 1764, by which time the vineyards boasted 35 000 vines, and the cellar contained 28 leaguers of wine. In turn, his son Pieter expanded the vineyards to comprise some 55 000 vines, after which Plaisir de Merle then went into the Hugo family through the marriage of Pieter's daughter, Rachel, to Daniel Hugo, who by 1831 was producing some 43 leaguers of wine.
And so on and so forth until the estate's acquisition by Stellenbosch Farmers' Winery (now Distell) in 1964.
Today the 974ha estate has about 400ha planted (between 250m and 350m above sea-level on the southeast-facing slopes of the Simonsberg) with Chardonnay, Sauvignon Blanc, Cabernet Sauvignon, Merlot, Petit Verdot, Cabernet Franc, Shiraz and Malbec. However, only about 80ha of the vineyards are reserved for the Plaisir de Merle cellar, where Neil Bester has been the winemaker since 1993. The rest supply some of Distell's other serious ranges, including Nederburg and Fleur du Cap.
'Plaisir de Merle had always performed very creditably, if not outstandingly,' wrote Tim James in his article regarding its sale. Both the Cabernet Sauvignon and Charles Marais flagship have received 93-point ratings on this platform in recent times, I see, while the Plaisir de Merle Signature Blend 2012 received 5 Stars and was named Bordeaux-style Red Blend Wine of the Year in the 2019 Platter's guide.
Historically, therefore, I'm delighted to discover that excelling at Bordeaux-style blends is nothing new for this Distell showpiece. In 300 Years of Cape Wine (1952), C Louis Leipoldt writes: 'In the early years of the century, the farm "Plaisir Merle" produced one of the finest light dry wines of the "claret" type that has ever been made in South Africa; its delicacy, bouquet, velvety softness and fine after-taste were highly commended by the late M. Escoffier and his friend Mr. Van Andel, at that time the manager of the Grafton Galleries, when they sampled a bottle in London in 1904.'
So there it is: a glowing endorsement from none other than Auguste Escoffier, 'the king of chefs and the chef of kings'!
Distell's stated intention is to find an owner 'more focused on the "super-premium" end of the market' for Plaisir de Merle. I hope a worthy one will soon be found.
BIBLIOGRAPHY
Geni.com
Leipoldt, C Louis: 300 Years of Cape Wine (Second Edition), Tafelberg, 1974
Plaisirdemerle.co.za
Stamouers.com
Joanne Gibson has been a journalist, specialising in wine, for over two decades. She holds a Level 4 Diploma from the Wine & Spirit Education Trust and has won both the Du Toitskloof and Franschhoek Literary Festival Wine Writer of the Year awards, not to mention being shortlisted four times in the Louis Roederer International Wine Writers' Awards. As a sought-after freelance writer and copy editor, her passion is digging up nuggets of SA wine history.
Attention: Articles like this take time and effort to create. We need your support to make our work possible. To make a financial contribution, click here. Invoice available upon request – contact info@winemag.co.za
Like our content?
Show your support.
Subscribe