Best Neighbourhood Take-Aways in Cape Town
11
Recently, Winemag accepted a challenge to find Cape Town's takeaways offering the best quality relative to budget. We aren't interested in global fast-food chains. We are interested in supporting the hardest-working, most talented, independent Cape Town eateries, those delivering seriously delicious food on a regular basis. The one condition is that the meal should be available for R100 or under.
Here are our winners:
City Bowl
Winemag first heard about Minato Sushi twelve years ago. Situated just off Long Street, it serves truly excellent sushi in a truly nondescript room. At present, there's a two-for-one special on Minato's already-cheap sushi rolls. For instance, you can get 16 maki – eight spicy tuna maki and eight crabstick uramaki – for exactly R100. 210 Long Street
Further up Long Street, the South China Dim Sum Bar is a favourite with chefs – and the prices are excellent. We had chicken won dumplings and vegetable pot stickers, with four different dippings sauces, for R87 each. The sauces are a highlight – a strong, fragrant soy, a handmade chilli sauce, an incredibly sweet and sour hoisin sauce and a thin, syrupy sweet chilli sauce. All the dumplings are handmade and cooked to order. 269 Long Street
In the east of the city, Nude Food Caravan makes a superb vegan falafel wrap on Fridays. It's a rainbow of fresh veg, hummus, green-centred crispy falafel, jalapenos, pickles and herbs. It's virtuous but not boring, and it costs under R100.
Around the corner from Nude Foods, New York Bagels still attracts a queue of people at lunchtime. For R88, you can buy the ingredients to make a Reuben sandwich at home (consider buying an R8 bagel and stretching the ingredients to make two zarms). The fillings provided are: rye bread, pastrami in broth, dill pickles, Russian dressing and red coleslaw. With your R100 you could also buy a litre of frozen chicken soup made the traditional way for R80, and two fresh bagels.
The Cousins Restaurant doesn't have a glamourous address, but the authentic Italian pasta dishes are brilliant, with both pasta and sauces made on the premises from scratch. Order the lasagna – made according to the cousins' grandmother's recipe – for the family. A tray costs R450 but it serves six (that's R75 a portion). 6b Barrack Street
Prashad Café is part of curry success story in Cape Town: Prashad is the "grandchild" of Maharajah (opened in 1979) and the "son" of Little Maharaj. Prashad Café has always produced excellent vegetarian and vegan curries – but recently the spicing was further improved. Try the matar paneer with rice and sambals for R85, along with at least one potato samosa. The yellow dal, mushroom breyani and butter bean curry are also highly recommended. Wraps and bunny chows come in at way under R100. Branches in Kloof Street (Shop 11b, Palmhof Centre) and Rondebosch (6 Fountain Place).
The Black Sheep is a big-hearted gastro-pub that has won a loyal customer base with generous, quality meals. The gourmet burgers and the vegetarian curry are R100 exactly. 104 Kloof Street
"Two Rivers" suburbs
The interior at Pahari African Restaurant, near The Tap Room in Salt River, is unassuming. The level of expertise is sky-high. Stews are hearty and meaty. Vegetables are bright in colour and taste. The menu is not long but includes "road runner" chicken (very good), trotters, tripe, five types of pap and even fried kapenta. Get a cooked-from-scratch stew and a starch for under R100. 121 Cecil Street, Salt River
Sepial's Kitchen, on the other side of Durham Road, makes refined Korean-style food. Also, Sepial Shim is a kimchi genius. The most economical bet here is to buy a portion of frozen kimchi fried rice for R50 and heat it at home, adding a fried egg and hot sauce before eating. The spicy vegetable and miso broth, sold with ramen noodles, is enough for two and also comes in at less than R100 a person. A1 Salt Orchard, Briar Road, Salt River
1890 House Sushi is an institution in Observatory. All the food is good, but the vegetarian options are particularly impressive. The vegetarian platter — with maki, California and bean curd rolls – is R92. The rainbow platter, with tuna and salmon, is R100. 40 Trill Rd, Observatory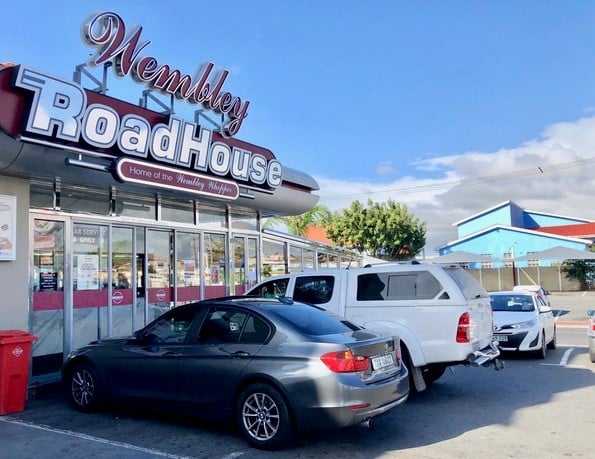 Athlone area
The Wembley Roadhouse is as famous for its milkshakes, faloodas, fresh samosas and koeksisters as it is for its Whopper, a steak burger with all the trimmings (including fried potato slices). Car service is an option. 21 Belgravia Rd
Established in 1976, Aneesa's Foods, opposite Athlone Stadium, is most famous for Vienna parcels. The Vienna Gatsby – an extra-long roll packed with chips, sausage, sauce and salad – costs R99,50 – and you get two litres of Jive cooldrink with it. Winemag liked the mutton salomie and the "bolla" – like a cross between a koeksister and a doughnut. Aneesa's in Wynberg is a favourite with locals and students. Branches in Athlone (Klipfontein Road) and Wynberg (Ottery Road).
Visiting Baps Shayona is a feel-good experience. The range of Indian snacks and sweetmeats is a delight, but this is also a restaurant with a heart (and branches all over the country). Shayona is a "non-profit community restaurant" that supports numerous charities. Winemag bought two "medium" vegetarian curries — chickpea and potato and vegetable — an orange-syrupy jalebi, two potato and pea samoosas and a pair of chilli bites — all for R100. Cnr Pine and Murton Roads, Rylands
Last year, Golden Dish won two prizes: Expresso's Favourite Gatsby Spot (which came with a R50 000 cheque) and the Jive trophy for Favourite Take-Away. Golden Dish opened in 1984 on a busy corner in Athlone. The original owner's 15th child, owner Rafiq Parker, says the family can't claim to have invented the Gatsby – "but we perfected it". Choose between the masala steak or peri peri chicken Gatsby. Each one costs over R100 but they're as big as cricket bats, and heavier. Winemag also enjoyed the beef curry and in-house atchar. 1 Hazel Rd, Athlone
Southern Suburbs
Fabrica do Prego, formerly Chippies Prego, is famous for its chicken: free-range spatchcocked chickens are marinated overnight, steamed and flame-grilled. The peri peri sauce is deliciously fresh-tasting. A quarter peri peri chicken and more-ish chips will set you back R84. You could almost buy a pasteis de nata with the change. Branches in Rondebosch (1 Silwood Centre, Campground Road) and Sea Point (277 Main Road)
Nice 'n' Spicy operates out of a garage forecourt in Claremont – and it's busy. The R90 chicken curry is excellent: a confident, spicy, not overly-hot, Durban-style curry with whole pieces of chicken and perfect potatoes. Bunny chow, wraps and samoosas are available too. Caltex Garage, Belvedere Road, Claremont
The Boulevard 82 Food Truck specialises in buttermilk-fried chicken – that's American South style: creamy, moist chicken within and a crunchy shell without. For R100 you could have the original burger with coleslaw and chipotle mayo – and chips to go with it. But we recommend spending R85 on The Mexican: a beast of a chicken burger with jalapeno, cream cheese dressing, lettuce and tomato. 169 Belvedere Rd – Mexican fried chicken
Visit Lebanese Bakery and Kitchen between 8am and 10am and get a half-price coffee while you choose between the dips, pies and cheeses typical to the streets of Beirut. The khob'z (pitas) and ka'ak – or "handbag breads" – are made fresh daily, in a traditional brick oven. 203 Imam Haron Rd, Claremont
Cosy Corner is a landmark in Lower Wynberg. Started in 1973 and still owned by the same family, Cosy Corner prides itself on its masala steak and rotis. The curry-packed salomies and meaty burgers are superb value too. 119 Ottery Rd
Bibi's Kitchen is 30 years old – and it does much more than hot food across the counter. There are sweets and desserts in the fridge and pastries in the freezer. The quality is exceptional across the board. Winemag loves the curries (all at less than R100 each, with rice). This month Bibi's introduced its thali takeaway – a Southern India-inspired meal consisting of many small dishes of curries and condiments. 32 Broad Road, Wynberg
South Peninsula
The Organic Zone in Lakeside makes frozen meals that Winemag would happily attempt to pass off as their own. The lasagnas stand out – the beef is R98 for a double portion and the vegetarian is R45 for a single – and the spaghetti bolognaise (R62) is everything you want from a home-cooked spag bol. The vegan apple crumble is R130, but there are nuts in the topping and the filling is generous. Branches in Lakeside (cnr Main and Putter Road) and Rondebosch (Riverside Mall)
Who needs restaurant tables and chairs when you can sit with a parcel of hake and chips on your lap on the Kalk Bay harbour wall? The debate rages on regarding where the parcel should come from: Kalky's or Lucky Fish & Chips. For character, visit the former; for taste, visit the latter. A portion of chips and three pieces of hake costs R74. Lucky Fish & Chips also has a branch at Surfers Corner in Muizenberg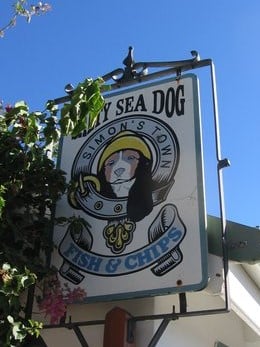 Thank goodness Salty Sea Dog in Simon's Town is now open on Sundays. Winter or summer, Winemag's fish and chips craving often hits on a Sunday at noon, and the Salty Sea Dog does very English accompaniments like pickled onions and mushy peas. At Salty Sea Dog, a portion of hake and large chips costs R83. 2 Wharf Street, Simonstown
During lockdown, Dalebrook Café was selling groceries, pantry items and bakes. Winemag recommends the chicken pie. 20 Main Rd, Kalk Bay
Speaking of pies, the greatest meat pies in Cape Town are sold at The Sweetest Thing in Simon's Town. The lamb and rosemary pie, at R60, is pricey. But this is a gourmet pie, packed full of meat and herby gravy. The steak and mushroom pie, at R40, smells and tastes like a roast dinner. The fillings are generous and the pastry is five-star. 82 St Georges Street, Simonstown
If you're walking past Salt in the morning, grab a couple of their lentil samosas – or a vegan almond croissant if there are any left. The lentil samoosa tastes like a steak pie and the almond croissant tastes like something made with a lot of very good butter. 136 Main Rd, Kalk Bay
Even when it's drizzling, there are queues on weekend mornings outside the Olympia Bakery. The Olympia Café, around the corner, is doing take-away meals now, but Winemag was impressed with the Bakery's frozen, sage-coloured butter bean and lentil curry. It was just R80 and big enough for two.
JJ's Indian Cuisine in Kalk Bay does a mean lamb curry for R95. There are also family specials worth noting if you're feeding a crowd. 4 Harbour Rd, Kalk Bay
Inside the yellow Budories Food Truck at Muizenberg Park, Niren Budram is serving vegetarian curries and sublime samosas. Chef Niren, as he's known by locals, is a big-hearted guy who worked hard making soups for the most needy during lockdown. Muizenberg Park, opposite Checkers Centre
Atlantic side
Situated in the middle of Main Road, Sea Point, Hesheng is most famous for dim sum. Winemag recommends the xiaolongbao – buns containing hot broth –the sweet red bean cake, leek pancake and pork and leek half-moon dumplings. Considering that every dumpling is handmade on the premises, and that the portions are large, the prices are ludicrous – for instance, R85 for the technically very challenging xiaolongbao broth buns. 269 Main Road, Sea Point
Mykonos Greek Taverna in Sea Point is currently running a two-for-one special of two schwarmas with one side each for R95. For 30 years, the Greek food at Mykonos has drawn crowds on the Sea Point strip. It has branches in Camps Bay and Newlands too. Branches in Sea Point (343 Main Road), Camps Bay (17 The Drive) and Newlands (37 Dean Street)
Giovanni's Deli World is decades-old, and yet the queues continue to stretch out onto the street at lunchtime. The cling-wrapped fried brinjal and beef carpaccio "platters" are excellent (and under R100), and you'll find cling-wrapped Colcacchio pizzas ready for cooking at home in the next-door fridge. 103 Main Road, Green Point
The pizza pack at Jason Bakery in Green Point costs R400, but there are four par-cooked pizza bases and you'll have sauce left over. The big treats here are the bakery bases, the handmade red sauce and the big tub of buffalo mozzarella. There's a ready-made vegetarian gourmet sandwich for under R100 if you don't have a relationship with your oven. 83 Main Road, Green Point (the Bree Street branch has closed down).
It's been called "The Greatest Vegan Burger in Cape Town or Maybe the World" – and Winemag gives The Sunshine Food Co's R95 vegan burger a double thumbs-up too. It's a tower of salad, sprouts and sauces, served with yellow dal, but the big events here are the meaty-tasting patty and the black bun. This is as it should be: nobody wants a salad sandwich masquerading as a burger. A good quarter hour of work goes into the cooking and assembly of this beaut. The Sunshine Food Co is not interested in fast food, but it's not just interested in principles either. This burger is delicious. Corner Glengarriff and Main Roads, Three Anchor Bay, Sea Point, Cape Town
Discover Cape Town's best fancy-food take-ways here.
Daisy Jones has been writing reviews of Cape Town restaurants for ten years. She won The Sunday Times Cookbook of the Year for Starfish in 2014. She was shortlisted for the same prize in 2015 for Real Food, Healthy, Happy Children. Daisy has been a professional writer since 1995 when she started work at The Star newspaper as a court reporter. She is currently completing a novel.
Attention: Articles like this take time and effort to create. We need your support to make our work possible. To make a financial contribution, click here. Invoice available upon request – contact info@winemag.co.za
Like our content?
Show your support.
Subscribe